Sofonisba Anguissola (1532-1625)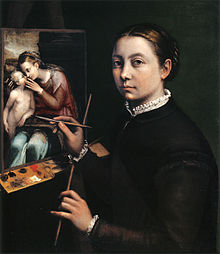 1. Self-Portrait, Sofonisba Anguissola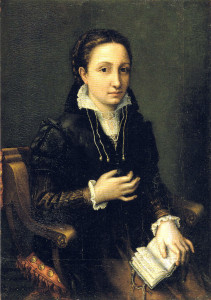 2. Self-Portrait, Lucia Anguissola
Sofonisba [Self-Portrait 1.] was born into a minor noble family in Cremona and was the oldest of 7 children (6 girls and 1 boy) all classically educated including painting. She and her sister Lucia [Self-Portrait 2.] studied with Bernardino Campi (1522-91) and Bernardino Gatti ("il Sojaro" c. 1495-1576) after which Sofonisba traveled to Rome where she met Michelangelo and began to establish her reputation as an artist. She returned to Cremona and her portraits during the 1550s cemented her reputation as a great portrait artist.  In 1559 she embarked for Spain (via Milan) where she became a lady-in-waiting and personal painting tutor to the Spanish Queen Elizabeth of Valois. She returned to Italy possibly for a year in 1571 (staying in Mantua to paint portraits of the Gonzaga family)[1] and then for good in 1573.
The Anguissola Family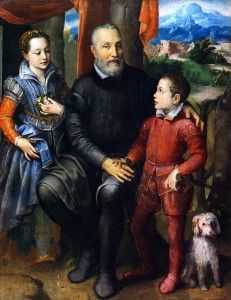 3. Minerva, Amilcare & Asdrubale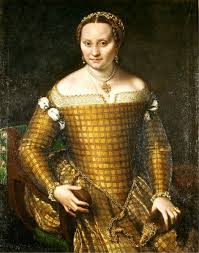 4. Bianca Ponzoni
The Anguissola parents were: Amilcare [3] and Bianca Ponzone/i [4]
Sisters and brother:
Elena (1532-84); studied painting and then became a nun.
Lucia (1536/38 – c. 1565 or before 1568); painter ("the best of Sofonisba's sisters") studied with Bernardino Gatti and died young [2]
Europa (1542/43 – 1572 or 78) was known for her portraits, although all the examples in Caroli (1987), pp. 162-69, are group portraits. [5]
Minerva (1548/9-64) writer and Latin scholar; depicted in the family portrait with Amilcare and Asdrubale. [3 & 5]
Asdrubale (1551-) [3]
Anna Maria (1555/56 – 1611), painter retired on marriage.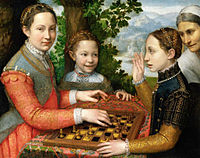 5. Lucia, Europa and Minerva with Servant 
Ironically, it was Sofonisba's class which came to define her art: her family, self-portraits and portraits of her social world rather than following a traditional (male) artist's workshop education of the study of anatomy, drawing from life and eventually to work on larger scale commissions. Her abilities as a portrait painter overcame any of these limitations and her social graces led to her becoming a lady in waiting for Elizabeth of Valois (wife of Philip II) in Madrid where she lived for 13 years marrying a Genoese nobleman who was said to be very supportive of her work as an artist.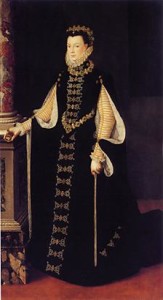 6. Queen Elizabeth of Valois
Sofonisba was the only female artist to be included in Vasari's Lives of the Artists (Second edition, 1568):
"Anguissola has shown greater application and better grace than any other woman of our age in her endeavours at drawing; she has thus succeeded not only in drawing, colouring and painting from nature, and copying excellently from others, but by herself has created rare and very beautiful paintings."
She lived into her 90s and was famously visited by Anthony van Dyke when he recorded this with a portrait and note in his sketchbook (1624). She is one of a handful of female artists, the first generation of celebrated female artists, noted for their work during the Italian Renaissance including: Lavinia Fontana, Fede Galizia and Barbara Longhi.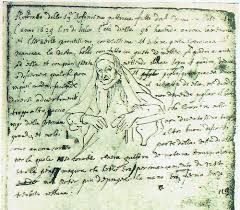 7. Portrait of Sofonisba by A van Dyke (1624)
[1] For a portrait possibly by Sofonisba of Margarita Gonzaga from the Locko Park sale catalogue, it is suggested by I S. Perlingieri that Sofonisba could have been in Mantua to paint Margarita's portrait in 1571 whereas Caroli (1987) is doubtful on the date of this painting as it was thought that Sofonisba was in Madrid and did not return to Italy until 1573. Old Master Paintings from the Drury Low Collection at Locko Park, Sotheby's, London, 6 December, 1995, Lot 29.