RTS Sotheby's Private View & Reception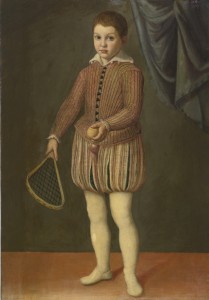 The first Real Tennis Society event was held on Monday 7 July 2014 at Sotheby's during London Art Week with a Private View and introduction to the picture by James Macdonald (Sotheby's) followed by the Old Master Sales Reception.  The event was a great success and we look forward to more exciting and informative RTS events in the future. Please join the RTS to be part of our future events, conferences and annual tour. 
The painting of the Boy with Racquet went unsold during the Day Sale (10:30 am) on Thursday 10 July (Lot 161).  The painting was then sold by private bid to an unnamed buyer on Monday 14 July.  
The following Notes were prepared by Frederika Adam for the RTS Event.  If you would like to provide entries on topics for the RTS site, have an idea for or would like to host a RTS event please contact Frederika. Thank you!
THE REAL TENNIS SOCIETY @ SOTHEBY'S, Bond Street 7 vii 2014
"So it may very reasonably be said that the Ball game is a very beautiful art invented by men for the benefit of our bodies and for the recreation of our minds and is, by its nobility and greatness, worthy to be accounted the Ball game above all others" – Antonio Scaino, Trattato del giuoco della palla (Venice, 1555)
Circle of Sofonisba Anguissola
Portrait of a boy holding a tennis racquet and ball, wearing a pink slashed doublet and hose.
Oil on Canvas
109.2 by 76.6 cm; 43 by 30 1/8 in.
Lot 161, Sotheby's Day Sale, Thursday 10 July, 2014
Provenance
This painting has been in the collection of the Earls of Warwick since 1800 when it was listed in the inventory as attributed to Federico Zuccaro. In 1815 it was given the ambitious attribution of Paolo Veronese. The painting was purchased by George Greville, 2nd Earl of Warwick presumably on a Grand Tour. More recently, since 1995, it has been on long term loan to the Davis Museum, Wellesley College, MA, USA.[1] Note: research into the provenance of both paintings prior to their arrival in the UK would be extremely useful.
There are two known versions of this painting. The other painting was sold at Sotheby's in 1995 from the Drury Lowe collection, Locko Park, Derbyshire and is today in a private collection. The Locko Park painting was attributed to Moroni in the 19th century (exhibited in Leeds (1868) and Derby (1870) as Moroni) and published by Richter in 1901 as "by a 16th century Florentine artist". In the 1970s, Philip Pouncey (in confidence) suggested an attribution to the Cremonese artist Bernardino Campi (and subsequently exhibited as "circle of Bernardino Campi" in Nottingham (1982)). The link with the Cremonese School persisted and it was sold in 1995 at Sotheby's as "Cremonese School circa 1570". In the Locko Park catalogue entry, it is suggested that the portrait was "compared to the work of Sofonisba Anguissola" and that therefore, the Warwick Sotheby's painting, reminiscent of the Locko Park picture and based loosely on style, drawing, colour and young subject type, these two portraits have something in common with other works by the first great female artist Sofonisba Anguissola.
Attribution
"Circle of Sofonisba Anguissola" refers to a painting that is of the period (second half 16th century) but there is no known physical (signature/inscription) or documentary evidence to connect this painting directly to (the "Workshop of" or hand of) Sofonisba Anguissola. Therefore the attribution is based on stylistic grounds and its obvious similarity to the Locko Park painting. Note: Sofonisba has 4 sisters who were also painters.
Condition
Sotheby's Condition Report:
"The painting has an old relining and possible very old (19th century?) 8cm extension along the left margin. The paint surface has an old dirty varnish and thick surface dirt. There are a series of old damages along the top margin, and one above the racket. The paint surface is in tact, with some slight wear to the boys head, and otherwise only very minor scattered retouchings."[2]
The Warwick Sotheby's painting is of the period and on closer inspection of the painting, in particular the nature of the support and brushwork, this might provide clues as to the likely artist and the date in relation to the Locko Park painting. Note: a professional condition report is advised.
Illustrations 1 & 2
If we compare the 1. Warwick Sotheby's and 2. Locko Park pictures:
– The current Warwick Sotheby's painting is 109.2 x 76.6 cm/43 x 30 ½ and the Locko Park painting is 170.5 x 65 cm/42 ½ x 25 ½ in.
– Both are very similar in stance, attributes and details including the costume, lace collar with fringe and strings, racquet, ball, cod piece (Locko is a bit larger!) and hose and shoes.
– The Locko Park painting also includes a small bit of curtain in the upper left hand corner.
– In the Warwick Sotheby's portrait, the boy is looking directly at the viewer. In the Locko Park portrait, the boy appears to be looking just slightly to the right of the viewer.
– The definition of the hair and facial features of the Warwick Sotheby's portrait is softer and less defined than the Locko Portrait.
– The racquet and ball do appear to be depicted slightly differently in the two pictures. The right edge of the racquet in the Warwick Sotheby's painting is less correct – i.e. the Locko racquet accounts for how a solid shape looks in perspective, whereas the Warwick Sotheby's racquet is more painterly. There could be more definition in the Locko Park ball as well. The differences in these two mechanical details are good evidence that the Warwick Sotheby's painting could be based on/painted after the Locko Park painting (or the original).
– According to the condition report quoted above, the Warwick Sotheby's painting is quite dirty and on inspection does have a noticeable yellow/aged varnish. Although I haven't see a condition report for the Locko Park painting, its colours and modeling appear to be in a more visible condition and/or it has been cleaned recently (1995?).
– Note: the estimate for the Locko Park picture was £50,000-70,000 and it sold for £84,000 (including buyer's fee) in 1995. The estimate for the current Warwick Sotheby's picture is £40,000-60,000.
Literature
The Warwick Sotheby's and Locko Park pictures are reproduced in Clerici's The Ultimate Tennis Book 500 Years of the Sport (1976), figures 9 and 10. This appears to be the only published reference to the picture so that the literature is mostly on the Locko Park picture which is better known.
Cees de Bondt in Royal Tennis in Renaissance Italy (2006) describes the Locko Park painting along with other examples of portraits of young noble tennis players from the second half of the 16th century to middle of the 17th century. (Also of interest is the drawing of a 2 year old Charles IX also included in the Illustrations for these Notes.) [Illustrations 3-6] See below for a list with links to these portraits.
An "Italian painting of the same period shows an endearing portrait of a young noble with a tennis ball in his left hand and a beautifully painted racket in the other. He looks extremely stylish in his exquisite tennis outfit, but not very athletic. The portrait, attributed to the Cremonese School and probably painted by Sofonisba Anguissola, illustrates that the game of tennis was one of the most beneficial physical exercises in the education of sons of noble birth. Other portraits were produced which underlined the game's great popularity among the ruling classes. Luigi Gonzaga, for example, was portrayed at the age of six with a ball and racket. Federico Ubaldo della Rovere (1605-23) was perpetuated by Federico Barocci at the age of two. This young Urbino prince wields a more appropriate instrument to hit the ball at his tender age: a wooden paddle or palletta. He wears an ornate mid-calf dress which is tied with a large bow at the waist. The princes Carlo Emanuele II and his brother Francesco Giacinto were also depicted at a young age with a beautifully-styled racket by Francesco Cairo in 1636. The picture shows the prominent role tennis played in the education of young princes at the Savoy court. Theses tennis painting, devoid of any form of complex symbolism, were perfectly in line with Antonio Scaino's royal image of the game."[3]
The Locko Park Boy with Racquet as "The Cremona Boy" is reproduced (Colour Plate p. 53) with a short (slightly curious!) note in Robert Morgan's Tudor Tennis A Miscellany (2001), p. 101.
"The Cremona Boy 
In the portrait the young lad in tennis gear happens to be dressed in a very similar style to tarts in Padua, although there is no suggestion that his lifestyle was as picaresque as that of Caravaggio or the courtesans. The portrait…was sold at Sotheby's in December 1995 and went for £84,000. The catalogue notes attribute it to the Cremonese School and date it around 1570. It is described as a portrait of a boy with a tennis racket and ball, wearing a pink slashed doublet and hose, which is remarkably similar to the carnation doublets of the ladies of the Veneto. The shoes he wears are flat-soled and may be the 'tennis shoes' worn in the time of Henry VIII. The ball that he holds seems to be about the size of a modern ball, and to be covered in sheepskin as one would expect. The racket that he holds is lightly framed and lightly strung, which suggests that the game he was playing was altogether less strenuous than that played a century later. I have often noticed that, in all the sixteenth-century depictions of tennis, the ball seems to be sent up into the air rather than cut low over the net."[4]
Sotheby's Sale Catalogue, Old Master Paintings, London, 6 December, 1995, Lot 23. See Illustration 2 (Locko Park painting) 
Other published references to the Locko Park painting: Richter, catalogue, no. 129 (1901)
The Tennis Racket and Ball
The racquet and ball appear to be of the period. The dark racquet strings appear to be generally accurate (while giving the impression of being loosely strung) while the light colour of the ball could be a sheepskin or light coloured leather (stuffed with hair) typical of this period.
Cremona & the Cremonese School
Cremona is a city in the Po valley in the region of Lombardy with strong historic and cultural ties to Pavia, Piacenza, Parma and Mantua and especially political ties with Milan (capital of Lombardy). In the 16th century, Cremona was a dominion of the Duchy of Milan and as a result had a turbulent time coming under Venetian rule in 1499-1508 and then from 1535 part of the Holy Roman Empire following the Italian Wars and the Treaty of Madrid. Cremona was under Spanish rule until 1707 when it came under Austrian rule.
Notable painters working in Cremona in the 16th century were:
Sofonisba Anguissola
Bernardino Campi
Giulio Campi
Francesco Dattaro
Giuseppe Dattaro
Altobello Melone
The attribution for Boy with a Racquet to an artist from Cremona first came about in the post-war period in the consideration of the Locko Park picture which appears to have been better known than the Warwick Sotheby's picture. In the sale catalogue description of the Locko Park painting (Sotheby's 6 December, 1995) Lot 23, [Illus. 2] the attribution to a Cremona artist is based on a "private communication" by Philip Pouncey (1910-90) that the artist could be "a follower of Bernardino Campi" and since 1995 the Locko Park has "been compared to the work of Sofonisba Anguissola."
Sofonisba Anguissola (1532 Cremona – 1625 Palermo)
Sofonisba was born into a minor noble family in Cremona and was the oldest of 7 children (6 girls and 1 boy) all classically educated including painting. She and her sister Lucia [Illus. 10] studied with Bernardino Campi (1522-91) and Bernardino Gatti ("il Sojaro" c. 1495-1576) after which Sofonisba traveled to Rome where she met Michelangelo and began to establish her reputation as an artist. She returned to Cremona and her portraits during the 1550s cemented her reputation as a great portrait artist. [Illus's. 1-9] In 1559 she embarked for Spain (via Milan) where she became a lady-in-waiting and personal painting tutor to the Spanish Queen Elizabeth of Valois. She returned to Italy possibly for a year in 1571 (staying in Mantua to paint portraits of the Gonzaga family)[5] and then for good in 1573.
If this painting is by Sofonisba and painted while she was in Italy, the painting should have been completed before 1560 or after 1571/73. It is more likely the painting was completed before 1560 but not impossible that she painted it after her final return (i.e. after 1573). If the painting was acquired in Italy by the Earl of Warwick (and the other version by William Drury Lowe in Italy as well), we are assuming the painting was completed and remained in Italy until the late 18th century.
The Anguissola parents were: Amilcare [Illus. 7] and Bianca Ponzone/i. [Illus.8]
Sisters and brother:
Elena (1532-84); studied painting and then became a nun.
Lucia (1536/38 – c. 1565 or before 1568); painter ("the best of Sofonisba's sisters") studied with Bernardino Gatti and died young [Illus. 9 & 10]
Europa (1542/43 – 1572 or 78) was known for her portraits, although all the examples in Caroli (1987), pp. 162-69, are group portraits. [Illus. 7]
Minerva (1548/9-64) writer and Latin scholar; depicted in the family portrait with Amilcare and Asdrubale. [Illus. 7&9]
Asdrubale (1551-) [Illus. 7]
Anna Maria (1555/56 – 1611), painter retired on marriage.
Ironically, it was Sofonisba's class which came to define her art: her family, self-portraits and portraits of her social world rather than following a traditional (male) artist's workshop education of the study of anatomy, drawing from life and eventually to work on larger scale commissions. Her abilities as a portrait painter overcame any of these limitations and her social graces led to her becoming a lady in waiting for Elizabeth of Valois (wife of Philip II) where she lived for 13 years marrying a Genoese nobleman who was said to be very supportive of her work as an artist.
Sofonisba was the only female artist to be included in Vasari's Lives of the Artists (Second edition, 1568):
"Anguissola has shown greater application and better grace than any other woman of our age in her endeavours at drawing; she has thus succeeded not only in drawing, colouring and painting from nature, and copying excellently from others, but by herself has created rare and very beautiful paintings."
She lived into her 90s and was famously visited by Anthony van Dyke when he recorded this with a portrait and note in his sketchbook (1624). She is one of a handful of female artists, the first generation of celebrated female artists, noted for their work during the Italian Renaissance including: Lavinia Fontana, Fede Galizia and Barbara Longhi.
The attribution to Anguissola is based on a number of features which can be seen in other paintings by the artist:
– Pink and Green textile of the dress/doublet
– Lace collar with loose white ties
– Facial features of young children similar in age to the Boy with Racquet
– Similar and often repeated approach to positioning the head, eyes and ear(s)
If the Locko Park picture is closer to an original or by Sofonisba and the Warwick Sotheby's picture is after Sofonisba's painting (i.e. a copy of the Locko Park) who is the Boy?
The Boy is around 8-10 years old in the portrait and we could narrow down the search for 1) a young noble tennis-playing sitter and 2) based on Sofonisba's movements between Cremona, Milan, (Madrid), Mantua and the other locations in Italy where this would have been painted either before 1559 and after 1573.[6] 1) A closer consideration of the major tennis families in these locations should be considered such as: the Sforza in Milan, Gonzaga in Mantua and Farnese in Lombardy (Parma).
Sofonisba painted a portrait of Alessandro Farnese in 1563 but Alessandro (born 1545) would have been too old at the time of either version of the Boy with Racquet.
If she painted a portrait of the children of Philip II and Elizabeth (daughter of tennis fanatic Francis Ier and born in Fontainebleau in 1545) unfortunately for our picture, they had two daughters – however, an investigation into other Spanish princes or noble children who played tennis would be useful to exclude this as a possible line for the identity of the young boy.
Another possibility for the sitter of this portrait is based on the fact that Sofonisba and her sisters painted portraits of one another including their father and brother Asdrubale. The Anguissola family were of minor nobilityand their social status is evident when Sofonisba painted a family portrait of her father, Amilcare, brother, Asdrubale, and sister Minerva in 1558 (?)[7] [Illus. 7] Although the date of the work is uncertain, Asdrubale (b. 1551) appears to be aged between 4 and 7 years old and in the manner of a young gentleman in his "exuberant" red outfit (with cod piece), like a minature nobleman with sword.[8] Therefore, Asdrubale would have been a similar age to the Boy with Racquet for a portrait dating to the late 1550s prior to Sofonisba's departure to Spain.
If the Locko Park portrait is by Sofonisba and of her brother Asdrubale this would put the date of the first painting around 1560 when Asdrubale was 8 or 9 years old and before Sofonisba left for Spain. If the Warwick Sotheby's portrait is a copy of the Sofonisba original painted around the same time or a bit later, it is possible one of her sisters (most likely Lucia) copied this work (for a particular reason?). There are other portraits by Sofonoisba which also have other contemporary versions by a lesser hand such as: Massimiliano Stamp (original in the Walters Gallery, Baltimore with two other versions in: Rheims and a Private Collection).
One last thought: Although tennis was usually referred to in 16th century Italy as palla or pallone (especially when referring to a tennis court) balonare is a term used in a document for a professional tennis player employed by Alfonso II d'Este.[9] The use of bale in the name of Asdrubale , and the visual pun of the cod piece with the ball placed directly above could be a literal pun linking his name with reference to the sport if it is in fact a portrait of Asdrubale.
Bibliography & the key texts on tennis in Renaissance Europe
Aberdare, Lord, The J.T. Faber Book of Tennis and Rackets (Quiller Press, 2001). Note: Forthcoming edition by James Bruce 2014-15.
Adamson, John (ed.), The Princely Courts of Europe 1500-1750 (Weidenfeld & Nicolson, 1999).
Beretta, Marco and Alessandro Tosi (eds.), 'Tennis and the Scientific Revolution', Special Issue of Nuncius: Journal of the Material and Visual History of Science Volume 28, No. 1 (2013)
Best, David, The History of The Royal Tennis Court: A History of Tennis at Hampton Court Palace (Ronaldson, 2002).
Campbell, Lorne, Renaissance Portraits: European Portrait-Painting in the 14th, 15th and 16th Centuries (Yale, 1990).
Carlier, Yves & Thierry Bernard-Tambour (eds.), Jeu des rois, roi des jeux. Le jeu de paume en France (Paris, 2001).
Caroli, Flavio, Sofonisba Anguissola e le sue sorelle (Arnoldo Mondadori Editore, 1987).
Clerici, Gianni, The Ultimate Tennis Book (Octopus Books, 1976). Young Boy with Racquet is discussed on pp. 30-1 and is reproduced figure 9.
de Bondt, Cees, Royal Tennis in Renaissance Italy (Brepols, 2006).
de Luze, Albert, A History of the Royal Game of Tennis (original French edition 1933) translated by Richard Hamilton (Roundwood Press, 1979).
Gillmeister, Heiner, Tennis: A Cultural History (NYU, 1998).
Hiller, Geofrey, The Bandies of Fortune: Perceptions of Real Tennis from Medieval to Modern Times (Ronaldson, 2009).
Krznaric, Roman, The First Beautiful Game (Ronaldson, 2006).
Marshall, Julian, The Annals of Tennis (1878)
Morgan, Roger, Tennis The Development of the European Ball Game (Ronaldson, 1995).
Morgan, Roger, Tudor Tennis A Miscellany (Ronaldson, 2001).
Noel, E.B. and J.O.M. Clark, A History of Tennis (OUP, 1924).
Pizzagalli, Daniela, La Signora della Pittura; Vita di Sofonisba Anguissola, gentildonna e artista nel Rinascimento (Rizzoli, 2003).
Sotheby's Sale Catalogue, Old Master & British Paintings, London, 10 July, 2014, Lot 161.
Sotheby's Sale Catalogue, Old Master Paintings, London, 6 December, 1995, Lot 23.
Vasari, Giorgio, The Lives of the Artists (First edition 1550; Second edition 1568).
Whitman, Malcolm D., Tennis: Origin and Mysteries (1932).
For more recent publications by contemporary historians of tennis see also: Richard Travers The Courts of Lyon (2012), Michael P. Garnett Tennis Miscellany 1 & 2 (2006 and 2014) and Kathryn McNicoll's The First and Foremost (2010).
The Renaissance Gentleman's Library
Ovid (Publius Ovidius Naso; 43 BC – 17/18 AD), Metamorphoses (Transformations)
Desiderius Erasmus (1466-1536), De lusu (Sport) in Colloquia (Johann Froben, Basel, 1522)
Baldassare Castiglione (1478-1529), Il Cortegiano (The Courtier) (1528)
Giorgio Vasari (1511-74) The Lives of the Most Excellent Painters, Sculptors and Architects (First edition 1550; Second edition 1568).
Antonio da Salo Scaino (1524-1616), Trattato del Giuoco della Palla (Treatise on Tennis) (Gabriele Giolito de' Ferrari and brothers, 1555)
Girolamo Mercuriate (1530-1606), De arte gymnastica libri sex (Venetiis: apud Iuntas, 1573)
Henri de Saint Didier Traicte contenant les secrets du premier livre sur l'espee seule, mere di toutes armes (Treatise On Fencing)(1573)
Benvenuto Cellini (1500-71), Autobiography (1558-63).
Francois Rabelais (c. 1483-1553), Gargantua and Pantagruel (c. 1532-c. 1564)
Galileo Galilei (1564-1642), Dialogo sopra I due massimi sistemi del mondo (Giovan Battista Landini, Florence, 1632). This book includes a famous frontispiece by Stefano Della Bella of three philosophers in discussion (one of whom is holding his tellurium (a scientific instrument) like a tennis racquet)[10] under the title banner with the Medici balls.
Illustrations
Portraits of Boys with Racquets
1. Circle of Sofonisba Anguissola, Portrait of a boy holding a tennis racket and ball, wearing a pink slashed doublet and hose, oil on canvas 109.2 by 76 76.6; 43 by 30 1/8 in. Sotheby's Old Master & British Paintings, Day Sale London, 10 July, 2014, Lot 161.
2. "Portrait of a boy holding a tennis racket and ball, wearing a pink slashed doublet and hose. Cremonese School circa 1570", formerly the Drury Lowe collection at Locko Park and sold Old Master Paintings from the Drury Low Collection at Locko Park, Sotheby's, London, 6 December, 1995, Lot 23. Oil on Canvas, 170 x 65. Published in de Bondt (2006) "Portrait of young noble boy, attributed to Sofonisba Anguissola" Colour plate 4, p. 278).
3. Portrait of (?)Luigi Gonzaga il Santo (1568-91) son of Ferdinando Gonzaga di Castiglione. Published in de Bondt (2006) Colour plate 6, p. 280.
4. Alessandro Vitali (1580-1630) Portrait of Federico Ubaldo della Rovere (1607), Museo Nazionale di Palazzo Mansi, Lucca. Published in: as attributed to Barocci, de Bondt (2006) Colour plate 5, p. 279; and Tosi as "by Vitali under close supervision of Federico Barocci", Nuncius Vol. 28, No. 1 (2013) Figure 7, p. 98; discussion p. 95). Federico Ubaldo was two when this portrait was painted. Vitali was a pupil of Barocci.
5. Portrait of Carlo Emanuele II and his brother Francesco Giacinto (c. 1636). Published in de Bondt (2006), Illustration 127.
6. Germain Le Mannier, Charles IX, King of France, aged Two (1552). Black, red and yellow chalks on paper, 33.5 x 23.4 cm, Musée Condé, Chantilly (MN 39). The inscription reads: "Charles Maximilian, Duke of Orléans, at the age of two in the month of June 1552." From Campbell (1990), p. 197. was a younger son of Henry II of France and Catherine de' Medici and success
The Anguissola Family
7. Sofonisba Anguissola, The Family Group (Minerva, Amilcare and Asdrubale) (1558?), Nivaagaards Malerisamling, Nivaa, Denmark.
8. Sofonisba Anguissola, Bianca Ponzoni Anguissola signed and dated ("Sofphonisba/Anguisol/Virgo/F./15.5.7."), oil on canvas, 98 x 75 cm, Berlin Gemaldegalerie Staatiliche Museum.
9. Sofonisba Anguissola, The Chess Players (Lucia, Minerva and Europa with servant) 1557, Muzeum Narodowe Poznan.
10. Lucia Anguissola, Self-Portrait, Castello Sforzesco, Milan.
Notes by Frederika Adam for the Real Tennis Society
frederikaadam@hotmail.com
The Real Tennis Society would like to thank James Macdonald and his team at Sotheby's for hosting the RTS and for making the painting and condition report available for study in preparation for this event.
The Real Tennis Society
www.realtennisociety.org
About the RTS
The Real Tennis Society was conceived in 2012 after the first international conference on the history of real tennis held at The Queen's Club, London during the 2012 World Championship.  The RTS was launched in Bayonne in September 2012 and the Website was created in October 2013.  The RTS is open to all enthusiasts who would like to learn more about the history of (real) tennis. We aim to hold special events, an annual tour and be a source of information on the work by historians in the field of the history of (real) tennis and related sports. In time and with support, we would like to publish an annual journal, hold a biannual conference while building the website into an online database for the sport. Annual membership to RTS is 25 pounds (gift aid available for UK taxpayers). If you would like to join the RTS please contact Frederika Adam on frederikaadam@hotmail.com or visit our Membership page. 
Our next event will take place in Bayonne during the Trois Tripots tournament, 22-28 September, focussing on the history of real tennis in the SW France and Basque country. To play in the tournament (team competition) contact Simon Berry: berry20@tiscali.co.uk
[1] From the Davis website www.wellesley.edu/davismuseum (accessed 2/vii/14): "Anguissola, Sofonisba (circle of), Portrait of a Boy Holding a Tennis Racket and Ball; 16/17th century, Oil on canvas; overall: 43 1/8 in. x 30 1/8 in. (109.5 cm x 76.5 cm); Extended Loan from a Private Collection, EL.1995.9"
[2] Condition Report provided by Sotheby's.
[3] de Bondt (2006), pp. 187-88.
[4] Roger Morgan, Tudor Tennis A Miscellany (2001), p. 101.
[5] For a portrait possibly by Sofonisba of Margarita Gonzaga from the Locko Park sale catalogue, it is suggested by I S. Perlingieri that Sofonisba could have been in Mantua to paint Margarita's portrait in 1571 whereas Caroli (1987) is doubtful on the date of this painting as it was thought that Sofonisba was in Madrid and did not return to Italy until 1573. Old Master Paintings from the Drury Low Collection at Locko Park, Sotheby's, London, 6 December, 1995, Lot 29.
[6] A quick Sofonisba Chronology: Cremona 1532-59; Milan 1559; Madrid 1559-73; Palermo 1573-79; Pisa 1579-80; Genoa 1580-1615; Palermo 1615-25.
[7] Pizzagalli (2003), p. 11.
[8] "il figlio sfoggia un esuberante completo di un bel rosso acceso, perfetta interpretazione, in miniatrua, della nobiltà di spada". Pizzagalli (2003), p. 14.
[9] de Bondt (2006), p. 72.
[10] Tosi 'Tennis in Early Modern Visual Culture' in Beretta and Tosi (2013), p. 86.