RACQUET Magazine London Launch November 2016
THE REAL TENNIS SOCIETY – SOCIÉTÉ HISTORIQUE DE LA PAUME www.realtennissociety.org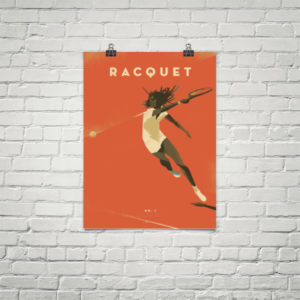 Our next event is during the 2016 British Open at Queen's (13-22 November):
The Real Tennis Society invites you to
the launch of RACQUET Magazine on
Wednesday 16th November, 2016
7pm
ACE Hotel
100 Shoreditch High Street
London E1 6JQ
Racquet Magazine is a new quarterly (lawn) tennis journal founded by Caitlin Thompson & David Shaftel that will appeal to the historian and player alike with alternative words and images by exciting writers and artists.
In each edition RACQUET Magazine will feature articles on related racquet games and this first edition includes an article on the 2016 Real Tennis World Championship by James Zug. The first edition also includes artwork by Bill Sullivan of SUN Press; Bill is an artist based in New York who produced a piece for Court Tennis Contemporary held at the Newport Art Museum during the World Championship in May.
The founding editor of RACQUET is David Shaftel who wrote two excellent articles on real tennis for the New Yorker and New York Times in 2015 – links to those articles you can find here:
New Yorker 27 September, 2015 http://www.newyorker.com/news/sporting-scene/the-antique-sport-of-real-tennis-and-the-woman-who-dominates-it
The New York Times 1 October, 2015 http://www.nytimes.com/2015/10/04/travel/england-real-tennis.html?_r=1
If you would like to attend this event, please RSVP with Frederika Adam to ensure your place for the evening: frederikaadam@hotmail.com
For further information on the evening and ACE Hotel, Shoreditch visit: http://www.acehotel.com/calendar/london/racquet-first-issue-launch
DON'T FORGET TO BOOK YOUR TICKETS FOR THE 2016 NEPTUNE BRITISH OPEN at THE QUEEN'S CLUB 13-22 November.
T&RA members receive special discounts on tickets for 13-16 November along with special prices on group bookings of 6 tickets or more throughout the tournament.
Sunday 20 November is Junior Day at the British Open! All Juniors (Under-18-years-old) can watch the top players in the world for FREE!  
To apply for special discounted group bookings or to apply for a free junior ticket please contact Frederika on frederikaadam@hotmail.com