Joining the Real Tennis Society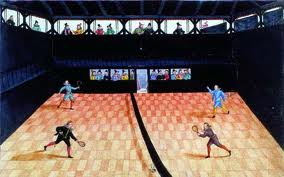 Membership runs for one year* and we will keep you informed about upcoming events as well as provide news on international real tennis, related tennis events and court projects.  We are always keen to host or co-run events while looking to set up a regular calendar of Events and Conferences open to all with members receiving priority booking and discounts. The Tour is open to Members only.
As a Member, you also receive the opportunity to have your own Member's Page on the RTS website [Example] where you can post articles (to download) and image galleries; ideal for those working on the history of tennis or producing content around the sport.  Members will also be able to sell their work in the Shop (under construction).  Serious content contributors to the Databases can receive a discounted membership. If you have any questions please contact Frederika on frederikaadam@hotmail.com
Annual Membership        £25, €30, US$40, Aus$40,
Students and Young Members' Discount (under 35):  £15, €20, US$25, Aus$25
*Membership for 2015-16 will run from September 2016 – September 2017.
PayPal to be set up in due course.
Thank you for your support!