"Gold Racquet" and "Silver Racquet" Screen Prints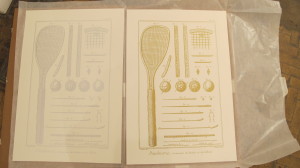 Two new limited edition screen prints by Frederika Adam have been produced by Coriander Studio in support of the Real Tennis Society.
Each print (66 x 45 cm), in either dazzling gold or silver ink on Somerset handmade paper, has been issued in an edition of 100 plus 10 Artists Proofs.
Each print is £150 unframed or £250 framed. 10% of each sale goes towards the Real Tennis Society.  To order, Contact Us or visit the link below.
Thank you!
For more information visit www.frederikaadam.com/order-prints