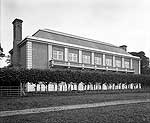 [Photo: Crabbet Park court, English Heritage Photo © National Portrait Gallery]
The Court Register will have individual entries for each court ever mentioned, documented, built or unbuilt with as much site (location and date), construction (builder, materials and dimensions) and historical information (patron, players and events).  These entries will be cross-referenced with both the Bibliographic and Visual Databases.
The growing list below is a work in progress and when the database infrastructure is ready will become the foundation for the court register.  We would love to hear from you if you have a court you would like to add or to provide a more in depth history for the eventual entry for the database.  Email: frederikaadam@hotmail.com
Courts are listed by country and if there are multiple entries per country, either chronologically or by area. The specific name used in documents (i.e. Kaetsbaan) for the court is in italics.  Courts underlined are former courts with some substantial remains or are dormant and for one reason or another are not in use and we hope one day could be restored for play.  Courts in bold are currently in use (hurrah!)  One of the most important aims of the RTS is to revive interest in the sport in countries which have courts that could be revived and to encourage countries to embrace the sport and build new courts.  Please get in touch with Frederika if you have a project in mind. Thank you!
Australia
The information on early courts in Australia comes from Michael P. Garnett (MPG)'s Tennis Anecdotes and Sketches (2010).  
1866 Ballarat, Main Street (J. Leonard); "An open court attached to Royal Mail Hotel.  Demolished by gale and rebuilt 1867." (MPG (2010), p. 151)
1868 Loughrea Hotel, Elgin Street, Carlton (Melbourne); "Hotel still stands but court has disapeared" (MPG (2010), p. 151)
c. 1870 Ball Court Hotel, Sunbury (J. Cahill); "Hotel still stands but no sign of court" (MPG (2010), p. 151)
1870 Crown Ball Court, Geelong; "Where 'a match of ball will shortly be arranged'.  Rear of Crown Hotel" (MPG (2010), p. 151)
1872 Ballarat Main Road (J. Noonan), "Ball court attached to Limerick & Clare Castle Hotel" (MPG (2010), p. 152)
1874/75 Hobart Tennis Club, Davey Street, Tasmania (S. Smith Travers); Dimensions: 108'6″ x 38'7″ x 26′ (MPG (2010), p. 152); Thomas Stone, first professional 
c. 1875 Bendigo, Bridge Street (P. McGrath); "Open brick ball court at rear of Hibernia Hotel" (MPG (2010), p. 152)
1882-1974 Exhibition Street, Royal Melbourne Tennis Club (Lord Normanby; Dimensions: 110′ x 38'6″ x 31′ (MPG (2010), p. 152); first professional was Thomas Stone); Queen Victoria granted the "Royal" in Royal Melbourne. Women allowed to join (for squash) in 1932.
1974 Sherwood Street, Royal Melbourne Tennis Club, Richmond; 2 Courts;  Dimensions: Both Courts: 110′ x 38'6″ x 32′ (MPG (2010), p. 152)
1983/84 Ballarat (John Gilbert); Dimensions: 110′ x 38′ x 32′ (MPG (2010), p. 152); Brett McFarlane, professional 
1997-2005 Macquarie University, Sydney (R. Lawton); Dimensions: 110′ x 38′ x 32′ (MPG (2010), p. 152); Wayne Kinniburgh, professional (Aberdare (2001), p. 345)
1999-2007; open on request Cope-Williams, Romsey, Vitoria; (Gordon Cope-Williams); Dimensions: 112′ x 38′ x 32′; "Glass grille wall and timber tabour" (MPG (2010), p. 152)
Future Courts:
Sydney Project – current plan is to build a new facility with two courts – for more information contact Dick Friend
Austria (See also Czech Republic, Germany & Holy Roman Empire and Switzerland)
Tennis may have been played after the demise of the Holy Roman Empire (1806) however the majority of the courts listed below were built during the HRE. A visual account of tennis courts in the Germanic States was made by the Merian family.  For a wealth of information on tennis in the Germanic States see Gillmeister (1997). 
Castle Ambras, Innsbruck – Ballenhause, included in engraving by Matthaus Merian; residence of Archduke Ferdinand II of Tyrol, nephew of Charles V.  Morgan notes that this court appears to be a similar design to the Rachetta, Palazzo Te, Mantua. (Morgan, p. 226)
roofed Ballhauss, Busterow Castle; Mecklenburg family
roofed structure, Bremerforde Castle
completed c. 1620 Salzburg (Paris Count Lodron, designed by Santino Saleri)
Vienna
1525-26 Ballhausplatz of the castle of Emperor Ferdinand I; Re-built 1526, Michaelerplatz; third court built 1536-52; other courts mentioned in this area: Ballgasse (narrow street) and 'Ballhaus Auf der Dackhen' (roofed tennis court)
Belgium (see The Netherlands/Flanders below)
Czech Republic
Prague 
The "Micovna", Summer Palace, Royal gardens, Prague Castle – designed by Boniface Wolmut for Archduke Ferdinand (1535 court completed 1568/9)
Court in city centre, Prague
France
Given the large number of courts, the courts have been listed by Department and town in alphabetical order.
Alsace
Aquitaine
Basque Country
1990 Trinquet d'Arcangues
1512 Trinquet dedans, La Bastide Clairence  
Trinquet, Balaki d'Itxassou
1874 Jeu de Paume, Pau, Parc Beaumont (today, modified trinquet) 
16c trinquet dedans, Trinquet St Andre, Bayonne 
St Jean de Luze
Trinquet St Martin, Biarritz
Bordeaux
Bordeaux has had an active tennis court since the 15c.  Unfortunately the most recent court, Bordeaux-Merignac (1978-2013), was demolished in June 2013.  The Club plans to find a new site and build anew in the next few years.  If you would like to find out more about the project, please contact Jacques Pouyot on behalf of the Bordeaux JdP. 
1522-53 8 courts were built in the Troupeyte quarter (centre) of Bordeaux.  See also the 1755 Map by Lattre of Bordeaux with the following 17 courts [Source: de Luze (1933)]:
c.1460, House of John Talbot, Count of Shrewsbury, Bordeaux (1)
1522-1624 Jeu de la Salamandre, Bordeaux (2)
1527-? Jeu de l'Ombriere, Bordeaux (3)
1530-1671 Jeu de Dibarrola, Bordeaux (4)
1538-1652 Jeu de Jean de la Fontaine, Bordeaux (5)
1543-1640 Jeu du Cheval Blanc, Bordeaux (6)
1553-? Rue des Combes, Bordeaux (7)
1553-1731Rue de la Coquille, Bordeaux (8)
1553-1684 Jeu de Tingon, Bordeaux (9)
1567-1694 Rue des Ayres, Bordeaux (10)
1576-? Rue de la Cadene, Bordeaux (11)
1595-1667 Rue du Pas-Saint-Georges, Bordeaux (12)
1607-1615 Rue de Gaufreteau, Bordeaux (13)
1616-? Rue des Trois-Conils, Bordeaux (14)
1617-1720 Jeu de Barbarin, Bordeaux (15)
1623-? Rue Castillon, Bordeaux (16)
1669-? Rue Tour-de-Gassies, Bordeaux (17)
Bordeaux-Merignac (1978-2013)
Auvergne
Bretagne/Brittany
Bourgogne/Burgundy
Centre
Champagne-Ardenne
Franche-Comté
Île-de-France
Fontainebleau
[Images of Fontainebleau, September 2013 © Frederika Adam]:
Château Fontainebleau – Francis I, Garden of Diana (1515-47) the Tambour still exists on outer wall of current court's Hazard end (third photo above); Covered court built along side the first court by Henry IV (1589-1610; destroyed by fire 1702; rebuilt 1732 by Louis XV); the court was in use until 1914 and then closed for tennis until 1993.  In 2001 the court was renovated (slate floor covered) and in 2007/08  repairs and modifications were made in preparation for the men's 2008 World Championship, for example, the dedans was made smaller on the main wall side. 
Paris
It is noted by three different sources in the 16c that Paris had at least 250 and possibly 1,800+ tennis courts and therefore this list (essentially taken from de Luze (1933)) is in order of arrondissement rather than by year. 
Louvre
Jeu de Charles V, next to Porte Saint Honore
1530 "Petit"  Jeu de Francois Ier, rue d'Autriche, next to the Seine; later, Cour des Marbres
Jeu de Henri II, rue d'Autriche
Ier Arrondissement
c. 1363 Jeu de la rue Froidmantel (Froid Manteau/Fromenteau), west of the Louvre; played on by Charles V
Jeu de l'Image Saint Nicolas, rue du Champ Fleuri (Champfleury); absorbed later by the rue de Rivoli
Jeu de la rue Grenelle Saint Honore (rue Jean Jacques Rousseau); played by Louis XIII and Masson
Jeu de la Hyacinthe; paumier Gossaume
Jeu de la rue Montorgueil; ancient and mentioned in 1807
Jeu de la rue du Pelican; mentioned 1437
2 Courts: rue de la Poterie ("rue des Deux Jeux de Paume"); Sauval court mentioned in 1471
Jeu de la Liberte, rue Saint Honore (built on land given by Daunois Perier in 1453); also referred to as the Jeu de Cleol in 1539 (name of pro?); mentioned again in 1631
Jeu de la Sphere, "close to the Louvre"; played by Henri IV
Jeu de la rue Troussevache (today, rue de La Reynie); mentioned 1577
Jeu de la rue Verderet (today, rue Etienne Marcel); mentioned by Rousseau
Jeux des Tuileries; 1862 First Court; 1882 Second Court (today, the Jeu de Paume Gallery)
2nd Arrondissement
Jeu de la Salamandre, rue des Deux Portes, in the parish of St Sauveur
Jeu de Calais, rue des Vieux Augustins (today, rue d'Argent)
3rd Arrondissement
Jeu de la Lune (jeu quarre), rue Beaubourg; conserved in 17c and mentioned in 1760
Jeu de Bertault; mentioned 1577 and 1604
Jeu du Moustardier, rue Bourg l'Abbe
Le Petit Temple, rue Grenier St Lazaire; Margot played there in 1427; Theatre Mondory
Jeu de La Fontaine, rue Michel le Comte, no 2; 1480 property of Jean d'Escouys; demolished in 1864 after many years out of use
Jeu de la rue d'Orleans; near convent of Capucins
Jeu de la Perle, rue de la Perle "la perle des tripots, comme etant le plus entendu de Paris"
Jeu du comte d'Artois, rue de Vendome (rue Beranger)
Le Petit Louvre or, Tripot du Marais du Temple (known in the 17c as the Jeu du Marais); a famous theatre too
4th Arrondissement
Jeu de la Croix Noire, a la Tour Barbeau (quai des Celestins, no 32); mentioned 1701, Bunelle as the paumier; and in 1645 as an illustrious theatre
Jeu de la rue des Exouffes; existed in 1675; Sorin as paumier in 1700 and run by Masson pere in 1760
2 Courts, rue Geoffroy l'Asnier; used in 1640 (Jaillot, Recherches de Paris (1775))
Jeu de la rue des Lions Saint Paul or, de Beautreillis (on the corner of Beautreillis, no 1 and rue St Paul no 4 (Lambeau)); demolished in 1552 (Dufaure)
Jeu de la rue des Mauvais Garcons
Jeu du Tambourin, rue de Paradis or rue de Paradis au Marais; built 1545-?
Jeu de la rue Saint Louis en l'Ile, no 54 (today, the Hotel Jeu de Paume); constructed in 1634/37 (after the bridge was built 1614-30) by Poulletier for 9,700 livres; Pasquier Chobet/Chaubert was the first professional; it was modified over the years and may have been used finally as a jeu quarre; Morgan remarks that this court was modeled exactly on the Tripot de la Perle, Fosses St Marcel; Underneath the court is an extensive cellar area designed for players to socialize and bathe (still there today); 1747 the court was sold for development; 1986 bought by Guy Prache and converted it into the Hotel Jeu de Paume.
Jeu de la Conversion, rue St Paul, on the corner of rue Newuve St Paul (rue Charles V)
1839-61 Jeu de passage Sandrie, demolished to make way for the Opera
Jeu de la rue de la Tacherie (L. Lambeau)
5th Arrondissement
Jeu du Grand Braque Latin, Place l'Estrapade no, 1;  famous 16c court ; it became later the Jeu du Cheval Verd and last the Jeu de l'Ecce Homo. Rabelais uses the court as the location for Garantua's tennis match with friends and it is also mentioned by both Rabelais and Vives.
Jeu de Montplaisir, rue de l'Estrapade, no 3; was still in existence in 1780 (Lambeau)
3 courts, rue d'Enfer (South Bld St Michel)
Jeu "without a designation" mentioned 1593 on the corner of rue des Francs Bourgeois
Jeu des Navets; mentioned 1540
Jeu de Grenelle, rue La Harpe (North Blvd St Michel); mentioned 1524
Jeu de Saint Jean de Latran, rue Saint Jacques; mentioned 1518
Jeu du Chaudron, rue du Faubourg St Jacques
Jeu de la rue Pot de Fer (today, rue de Madame); mentioned 1569
Jeux du Clos Ste Genevieve; mentioned 1530 (Crozon)
Tripot des Onze Mille Diables, and later, Jeu de la Sphere, rue Neuve Ste Genevieve/rue Tournefort
Jeu du quai de la Tournelle; mentioned 1614
Jeu de la rue Saint Victoir; 1787 (Lambeau)
Jeu du Cygne de la Croix 1571
Jeu de l'Image Ste Genevieve, Luxembourg
Jeu de Montgaillard, Luxembourg
Jeu du Pavillon; 1592 Luxembourg
6th Arrondissement
7th Arrondissement
8th Arrondissement
9th Arrondissement
10th Arrondissement
11th Arrondissement
12th Arrondissement
13th Arrondissement
14th Arrondissement
15th Arrondissement
16th Arrondissement
1908- Rue Lauriston, 74 Ter; originally 2 courts, the second court was converted into 4 squash courts in 1927 (the first squash courts in Paris) 
17th Arrondissement
Royal Palace, Saint Germain-en-Laye – National Archeological Museum
Versailles
Languedoc-Roussillon
Limousin
Basse-Normandie/Lower Normandy
Midi-Pyrénées
Nord-Pas-de-Calais
Pays de la Loire
Chateau d'Amboise
Castle, Saumur; Drawing of 5 players playing roof ball (without a court)
Picardie/Picardy
18c Chantilly
[Photo: Auberge du Jeu de Paume (Relais & Chateau) website]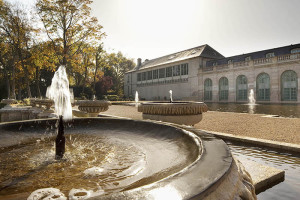 Poitou-Charentes
Provence-Alpes-Côte d'Azur
Aix-en-Provence
city centre
Rhône-Alpes
Lyon
In The Tennis Courts of Lyon (2012), Richard Travers has found evidence of at least 18 courts in Lyon all mentioned by the early 16th century.  The following information on Lyon tennis courts can be found in his book pp. 7-9. Travers has also found the names of professionals who worked at these courts in Lyon – the list includes 14 names, pp. 10-11. 
1st Arrondissement (Croix-Rousse and the northern part of the Presqui'ile, down to Rue Neuve)
1) tennis court, Rue de la Laterne; (Pierre Dallieres); tennis court behind house
2nd Arrondissement (The rest of the Presqui'ile, from Rue Neuve to the Confluence)
16c Ainay [Chapter 2, Travers (2012), pp. 17-28]
2) jeu de paume, Rue Port-Clarlet (now Rue Ferrandiere); (Jean Regnaud)
3) 'covered jeu de paume', Rue Port-Charlet (now Rue Ferrandiere); (Jean de Sales)
4) tennis court, Rue Port-Charlet (now Rue Ferrandiere); (Guillaume Burgat); tennis court behind house
5) jeu de paume behind house, Rue de Puits-Pelu (now Rue Palais-Grillet); (Catherine Arnaud and Jean Chanier)
6) jeu de paume, Rue du Temple (now Rue de la Monnaie); (Claude Cousin, "Loyon", paumier)
7) jeu de paume, Rue Ecorcheboeuf (now Rue Port-du-Temple); (Pierre Augustin)
8) "large covered jeu de paume", Rue Ecorcheboeuf; (Pernet Boton, paumier)
9) "jeu de paume and hot baths", Rue de la Rotisserie (now Rue Thomassin); (Jean Clepoint "la Picarde"); court managed by Jean de Paris, paumier
10) jeu de paume, Rue de la Rotisserie (now Rue Thomassin); Chapard family
5th Arrondissement (Vieux-Lyon, west of the Soane (Rue Tramassac was also known as Rue de la Monnaie, and the southern end became known as Rue du Boeuf)
11) 15c tennis court, Rue Tramassac; (Antoine de Molesmes, harbourmaster)
12) 1525-? jeu de paume, Rue Tramassac (near Rue Monnoye); Nicolas Bault's widow built lodgings and jeu de paume
13) 'Bras-de-Fer' tennis court, Rue Tramassac (15 Rue du Boeuf); (Louis Thorel, doctor)
14) tennis court, Rue Tramassac; (Etienne Montucla)
15) tennis court, Rue Tramassac; (Anthoine Tixier, notary)
16) tennis court, Rue Tramassac (?); (Francois Solasson and Jacques Cousin (furrier), owners)
17) jeu de paume, Rue Ganivet (now Rue Trois-Maries); (de Sennecy have a house called Quatre-Vents)
18) jeu de paume, Rue de la Bombarde; (Antoine Cusin)
Department Drôme, Rhône-Alpes
1566 Suze-la-Rousse, Rhône Valley
Haute-Normandie/Upper Normandy
Germany (The Holy Roman Empire) See also Austria, France and Switzerland 
Tennis in Germany, or in the Holy Roman Empire (962-1806), was a favourite of the Hapsburgs and played most enthusiastically in the Universities. The following list is extracted from Heiner Gillmeister's Tennis: A Cultural History (1997). 
1548 Augsburg 'at St Anna's Church close to the Library'
later 16c Basle
16c Buckeburg
later 16c Butzbach
later 16c Cassel (Kassel)
Coburg – Print of exterior (1632) shows weathervanes in shape of players
1595 Residentz, Colln der Spree, Cologne (Colln) – open unroofed structure; similar in location on site to Falkland Palace (Morgan, p. 228)
later 16c Darmstadt
early 16c Frankfurt
later 16c Giessen
early 16c Halle
1592 Heidelberg; Heidelberg Castle; third court
1593/54 Ingolstadt
16c Jever
Kassel (see Cassel)
16c Lubeck
later 16c Marburg
later 16c Munich
early 16c Nuremberg
16c Oldenburg
later 16c Strasbourg (2 courts)
later 16c Tubingen
later 16c Ziegenhain
Ireland 
1885 Dublin (Lord Iveagh)
1922 Lambay Island, Ireland; an existing castle was transformed into a country house by Lutyens for Cecil Baring, 3rd Baron Revelstoke by  unusual lay out with a penthouse along the main wall designed to prevent the main wall force.  There are plans to restore the house and court.  Please contact Jamie Turner c/o the T&RA for more information.  Lambay Island information
Italy
The rules of Tennis (Trattato del giuoco della palla/Treatise of the ball game) and its related games were first published in Venice by Antonio Scaino (based at the d'Este court in Ferrara) in 1555.  The definitive history of tennis in Italy during the Renaissance is Cees de Bondt's Royal Tennis in Renaissance Italy (2006);  de Bondt has found evidence of around 60 courts in Italy (listed below) and he continues to comb the archives in Italy to discover ever more information on what is currently a lost sport in a country that had some of the most important centres and patrons of the sport during the Renaissance.  Italy has produced one world champion of tennis to date: Marchisio (1816-19).  The following list below (listed by geographical Region) is derived from de Bondt's Tennis Courts at Italian Palaces and Teatri della Pallacorda e Rachetta, Appendix III, p. 221. For supplementary information, see also Morgan (1995) pp. 225-26.
Campania
Caserta
c. 1780 Palazzo Reale
Emilia-Romagna
Copparo
Castello Estense
Ferrara
Belriguardo
Belfiore
3 Courts, Castello Estense
Palazzo Ducale
saloon, Palazzo dei Diamante/Diamond Palace, Ferrara; (Este family (Dukes of Ferrara))
Modena
Palazzo San Pietro/Palazzo Ducale, Modena; (Este family, Dukes of Ferrara)
Parma
Palazzo della Pilotta; (Farnese family)
Sassuolo
Palazzo Ducale (Este family)
Lazio 
Rome
Palazzo della Cancelleria
quarre court, Palazzo Farnese, Caprarola (50k outside Rome); (Cardinal Alessandro Farnese II (1520-89); Dimensions: 27 x 9.5 metres (Travers (2012), p. 25)
Palazzo Barberini
Palazzo Borghese
Palazzo Capodiferro (today, Spada)
Palazzo di Firenze
Palazzo Colonna
Villa Medici
Palazzo Colonna
Palazzo Doria Pamphili
Villa del Priorato sull' Aventino
Villa d'Este on the Quirinal
Outskirts of Rome:
Caprarola
Villa Farnese
Marino
Casino Colonna
Palestrina
Palazzo Colonna-Barberini
Vignanello
Castello Ruspoli
Frascati
Villa Mondragone
1571 
steccato maggiore
, 
Villa d'Este, Tivoli (Rome)
; (Ippolito d'Este, Cardinal of Ferrara and Archbishop of Lyon (1509-72); Alfonso d'Este, Antonio's nephew, was the dedicatee of Scaino's 
Trattato
 (Travers (2012), pp. 25-26)
Palazzo Sforza Cesarini
(Source: Giorgio Galletti, Macolm Campbell and Medici Archive Project)
Lombardia/Lombardy
Mantua
Palazzo Ducale (Gonzaga family)
Palazzo San Sebastiano (Gonzaga family)
Palazzo Te (Mantova) (1525-35; Rachetta c. 1528); Gonzaga family (Dukes of Mantua)
Marmirolo (Gonzaga family)
Castello Gonazaga, Gonzaga (Gonzaga family)
Palazzo Gonzaga Guerrieri, Volta Mantovano (Gonzaga family)
(Source for Mantua: Clifford M. Brown, Cesarino Mezzadrelli)
Sala della Balla, Castello Sforzesco (Milano); (Sforza family (Dukes of Milan)
1430? Castello di Pavia (Sforza family)
Cassino (Sforza family)
Villanova and Palazzo Reale, Milan (Sforza family)
Marche/Marches
Fossombrone
Palazzo Ducale, Fossombrone; (Montefeltro/Della Rovere family; see also Pesaro and Urbino)
Pesaro
Palazzo Ducale, Pesaro; (Montefeltro/Della Rovere; See also Fossombrone and Urbino)
Urbino
Palazzo Ducale, Urbino; (Montefeltro/Della Rovere; See also Fossombrone and Pesaro) The court was built as part of the Palazzo complex commissioned by Federico da Montefeltro c. 1470.
Piedmonte
Torino/Turin
 In Turin, a tennis court was known as a 
Trincotto. 
The thought is that this term was derived from the Spanish
Trinquete
. [source: De Bondt]
1620 Palazzo Reale; (Savoy family)
1675 Palazzo Reale, Piazza Castello (Savoy family)
Palazzo Carignano
Venaria Reale and Castello di Morsasco
Castello di Casale
(Source: Sabine Eiche and Robert Tavernor)
Sicily
Palermo
Palazzo dei Normanni
Toscana/Tuscany
Firenze/Florence Pallatoio 
3 courts, Palazzo Pitti, Florence; Medici family (Dukes of Tuscany)
The Medici Villas – Outskirts of Florence
Villa Medici, Poggio a Caiano (West of Florence)
Pratolino
Villa Castello
Lappeggia and Villa Rucellai
Prato
Palazzo Vivarelli-Colonna (today, the Seminario Vescovile)
Segremigno in Monte (Lucca)
Villa Mansi (Benedetti family (16c) and then Mansi family (17c))
Settignano
Villa Gamberaia; (Zanobi Lapi family (17c) and Capponi family (18c)
Volterra
Palazzo Maffei (today, the Etruscan Guarnacci Museum)
Veneto
Battaglia al Terme
Vicenza
La Rotunda, Vicenza
Venezia/Venice
15c Palazzo Pesaro Papafava, Calle de la Rachetta, Cannaregio (today, houses the History of Art Venice Programme, Warwick University)
Calle dei Botteri, near the Rialto, Venice;
Birri and San Felice Courts, Venice; Giovanni de Grevembroch (Jan van Grevembroch) Nobile alla Rachetta (1731); The San Felice court street is today called Calle della Rachetta
2 Courts, Fondamente Nuove; the court run by Pasqual Cicogna was famous with the nobility of Europe when in Venice – for tennis and gambling. (Morgan, p. 225)
Further resources:
Painting by Gabriel Bella (1730-99) of a game of doubles played in Venice (Stampili)]
Keywords for ball games in Italy, see also: Pallone (tennis/ball game with a big ball), sferisterii (pallone court), Tamburello, sferisterio, palla (ball), pilotta (small ball), palla a maglio (ball and mallet)
Netherlands/Flanders (including Belgium, France and the Netherlands)
In Bruges, the Dukes of Burgundy were the most significant patrons of paume in the 15c: Phillipe le Bon (d. 1467).  Flanders also produced in the 15c one of the greatest female players: Margot of Hainault.  Court Sources: Julien Desee, Les Jeu Sportifs de Pelote-Paume en Belgique (1967), Cees de Bondt (1990) and Roger Morgan (1995).
17c Kaatsbaansteeg, Amsterdam
17c Kaatsballengang, Amsterdam
1491 Nationalestraat, Antwerp
1492 Lombardenvest, Antwerp
1499 Koepoortsraat, Antwerp
Tanner's Tower, Antwerp (built for the Italians based in Antwerp)
St Michael's Church, Antwerp (built for the French courtiers of the Duke of Anjou based in Antwerp)
Kaetsbaan (Tennis Court) Street, Den Briel
15c 2 courts, Prinsenhof Bruges 1) 'a wooden hall in the courtyard of the palace' and 2) a smaller court with penthouses on three sides (Morgan p. 210). (Print; Map by Marc Gheeraerts (1562); Morgan p. 209 and Map Flandria Illustrata (1641)) Philippe le Bon
Currier's Square, Bruges (Map by Marc Gheeraerts (1562); Morgan p. 209)
longue paume, Abbaye des Dunes, Cozyde; destroyed 1578 (Painting by Pourbus (1580) in Musee Brangugn, Bruges)
Ducal Palace, Brussels; Print by J. Van de Velde (1645), Royal Albert Ier Library, Brussels.
Delft
c. 14c The Hague (Den Haag), first mention of tennis in The Hague by Duke Albert of Bavaria, Count of Holland
14c Binnenhof (courtyard of former castle of the Counts of Holland, today is the Dutch parliament), The Hague; restored 1561(from wood to masonry)
Kaatsbaan s'Heerenberg
University of Leiden – Print (1612) by Crispijn de Passe "The rackets, while they make the little ball fly to and fro, train the young man's body and spirit, for the ball restores energy to the body of poor health, whereas the brains overburdened with assiduous studies are paralysed."
Oudenberg
Caetsbrugh or 'Kaatsbridge', De Rijp
Rotterdam
University of Utrecht
South America
"Jugar a la Chaza" played with a battoir, similar to longue paume introduced during the colonial period. (Morgan p. 224); see also: Llargues (also played in Alicante and Canary Isles) and Pelota Mixteca, Mexico
Spain
Many towns in Spain had trinquet courts which were eventually absorbed into town architecture during the 18th century. In Llargues: "estar la pelota en el tejado" ("to be a ball on a roof" i.e. to be in an undecided state).  Charles V, Holy Roman Emperor, was an enthusiastic player playing at Bridewell with Henry VIII and Federico Gonzaga in Mantua. Charles' brother, Archduke Ferdinand, built courts in Vienna and Prague. (Morgan, p. 224)
Juego del Pelota Palace of Buen Retiro, Madrid; Two paintings show the court with penthouses on three sides with galleries: 1) by Pedro Teziera (1656) and by Jusepe Leonardo (1656). The court is called jeu de paume in a French plan by Rene Carlier.
The Prado (?), Madrid
c. 1285 Valencia; There were 10 courts in Valencia during the 15c and the scholar Juan Vives (b. 1492), gives descriptions of tennis (and Galotxa) in Spain and Flanders.
Switzerland
First half 16c Geneva, near Longemalle (left back of the river)
19c 25 rue de Chevelu, St-Gervais, Geneva (demolished c. 1843)
"Au Coq d'Inde", Geneva
Plonjeon (Parc des Eaux-Vivres)
16c near Porte Saint-Maurice, Neuchatel (Valangin and Jean Sagnard) restored in the 17c for Soissons to play while in Neuchatel
UK (England and Scotland) 
Pre-18 century
15c Blackfriar's monastery, Perth, Scotland
c. 1498 "Striveling" (Sterling), Scotland (Morgan, p. 214)
c. 1534 "The Exchequer", Calais (16c) – plan in BL
1539-41 Falkland Palace (The National Trust for Scotland), Scotland; built for James V
16c Holyrood Palace, Water Gate, Edinburgh; used as at theatre in 1681
Greenwich (16c)
c. 1545 Christ Church, Oxford
Jeu Carre, New Hall, near Chelmsford (16c)
Westminster Palace – 1) The Great Open Tennis  Play (83 x 27 feet) 2; completed 1533-34) The Great Close Tennis Play 3) The Small Open Tennis  Play 4) The Small Close Tennis – the corner turret and one bay survive today; 5) Edward VI's court 6) Charles II
1615 List of the 14 courts of London (held in Petworth archive) with dimensions
17c Royal Tennis Court, Hampton Court Palace
Norwich
Woodstock (16c – c.1723)
Oxford Colleges: Queen's, Lincoln, Merton, Oriel (c. 1572) (an additional 4 not run by Colleges)
St Jame's Palace (17c – c.1767)
Wilton House
Windsor (1676-1782)
Whitehall Palace
1798 Merton College, Oxford (original court built on this "Postmaster's Hall" site was in 1595; court restored in 19c and 1912 by Bickley (including the floor)); 1608-1758 Lease held by Wood family; 1759-1836 Tompkins family; 1837-66 Thomas Sabin; 1866-pre WWII Tompkins followed by son-in-law Dickinson; 1961-65 Peter Ellis; 1965-72 Peter & Viv Dawes; 1972-74 Chris Ronaldson; Mick Dean, Mike Flanagan, Steve Ronaldson, Jerome Fletcher, Alan Oliver and Kees Ludekens (assistant before becoming Head pro, Cambridge); Andrew Davis (Head pro 2011-)
Bath, Julian Road (today, a Museum on the History of Industry in Bath)
19 century 
17c; restored 1887 Easton Neston, Northamptonshire; built by Sir Thomas Fermor-Hesketh "The longest court in England"
1817-20 Strathfieldsaye (Wellington)
c 1820-30 Coombe Abbey (restored)
c 1820-30 Hewell Grange (Lord Plymouth)
1837 Brighton
Lord's First Court (1838; floor repaved 1866; demolished 1898 to make way for the Mound Stand); "Second" court 1900-; roof destroyed by a bomb during WWII; Head professionals: Jack Groom 1924-45; Henry Johns 1945-75; David Cull Adam Phillips 20
1840 Theobald's Park (Henry Meux)
1843 Hatfield
1846 Leamington Tennis Court Club, Warwickshire
1866 Clare and Trinity College, Cambridge; "Green" Court; 1890 Second "Blue" Court (Bickley)
1852 Eamont Bridge (Lord Brougham)
1854 East Road "Philipp's" Court, Cambridge
1874 Heytrop (Brassey)
1876 Petworth (Lord Leconfield) 
1878 jeu decouvert, Westgate-on-Sea (Sir WG Orchardson)
1878 Crawley Court (Kennard)
1879 Fairlawne, Shipbourne, Kent (Cazalet) – Private, Restricted access
1879 Canford (Sir Ivor Bertie Guest, Lord Wimborne); Renovated 1913 (Rackets court converted in squash courts in 1962), Roof restored 1935; Professionals: Edward "Ted" Johnson and son Edward, G.H.Holman (1933-35), W.D.Whiston; Canford School founded in 1923; Court restored after WWII in 1953; Professionals: Rob Bartlett (1980-2), Steve Ronaldson (1982-)
1880 Manchester 
1882 Whitlebury (R Loder)
1883 Sheen (Duc of Fife)
1884 Hyde House and Court, Bridport, Dorset (Gundry)
1887 The Queen's Club – 2 Courts; William Cecil Marshall, Architect, Courts built by Joseph Bickley 
1889 and 1890 Prince's Club – 2 courts
1889/90 Holyport, near Maidenhead (Heilbut) – Holyport Grange Tennis Club; Joseph Bickley 
1890 Rustall Hall (McClean)
1894 Jesmond Dene, Newcastle (Andrew Noble)
1896 First court, Hardwick House (CD Rose)
1900/01 Suffolk House, Newmarket (CD Rose) Bickley
1902 Chieveley (Colonel McCalmont)
1905 Troon (JOM Clark) – Troon, Scotland (Register for Scotland)  The court was reactivated by Alistair and Jill Breckenridge in 1969; Chris Ronaldson become the head pro in the late 1970s followed by Walter Gregg and Mike Gooding.  The building is listed but access has been restricted by the current owner of the house since 1991.  The court is essentially being left to rot – it is officially "AT RISK" on the Register for Scotland – something must be done to save this important Bickley gem of a court!
1906 Moreton Morrell (Charles T Garland; Colonel Ogilby); Joseph Bickley 
1907 Crabbett Park, Sussex (Neville Lytton and Baroness Wentworth); "converted to offices"; Dimensions: 110'4″ x 38'10" x 24′ (Garnett (2010), p. 151); Joseph Bickley
1907 Hardwick House, Pangbourne (near Reading) (Sir CD Rose) – Private;  The First court was built in 1896 (remains have been converted into a house); Eton Fives court (not in use); Joseph Bickley 
1909 Ditton Place, Balcombe (A. Horne) Dimensions: 78′ x 28′ x 16′ (MPG (2010), p. 151)
1912 Seacourt, Hayling Island (JF Marshall); Joseph Bickley 
The Modern Renaissance 1980-
1989/90 The Oratory School, Berkshire (Adrian Snow) 
1993-2006 Harbour Club, Chelsea Harbour, London
1997/98 Bristol & Bath, Beggar Bush playing fields, Clifton; Club was founded in 1985; Total cost of the court was: 565,000 (212,000 money raised and 353,000 Lottery); Dimensions: 110′ x 38′ x 32′ (Garnett (2010, p.151); Kevin King, Head professional 
1998/99 Prested Hall, Essex (Mike Carter) 2 Courts ("No 1" completed June 1999 and "No 2" court completed December 1998/early 1999) 
1999 "The Millennium Court at the Burroughs Club, Hendon" (Peter Luck-Hille); the court was designed in conjunction with PLH and built by architectural film Pringle Richards Sharratt; the court was the first to use Kalwall for upper walls and roof as well the first to use Armourcoat plaster (subsequently used in Chicago); "Middlesex University Tennis Club" (2009-); current Head professional Matty Ronaldson
2008 Radley College Tennis Court Club (Mick Dean); 2008- Chris Ronaldson, Head professional.
Future UK Courts: 
Wellington College – currently fundraising – contact the T&RA office if you would like to support this project.
Jersey, Channel Islands – 2 courts and a rackets court to be built as part of the new University of Jersey.  Please contact John Lawton for further details.
USA 
1876 Buckingham Street, Boston (Hollis Hunnewell and Nathaniel Thayer; Ted Hunt (UK) and Tom Pettitt (UK), professionals)
1880 National Tennis Club, Newport, RI – part of the International Tennis Hall of Fame
1888 Boston Athletic Association
1889-1907 First Philadelphia Club, Walnut Street
1891 First Racquet & Tennis Club, 27 West 43 Street, New York City (Robert Moore, Stanley Lambert and Alfred Tompkins)
1893-1901 Chicago First Court (Second Court 1923/24)
1899/1900 Tuxedo Club, Tuxedo Park, NY; Joseph Bickley  
c1900-06 Georgian Court, Lakewood, NJ (Frank Forester, Professional)- revived 2006; Joseph Bickley 
1902 Myopia Hunt Club, Hamilton, Boston
1904 Aiken Tennis Club, South Carolina (Whitney); Joseph Bickley 
1904 Tennis & Racquet Club, Boston – renovated roof 2013; Joseph Bickley  
1907 Racquet Club of Philadelphia, 16th Avenue; Joseph Bickley (Frederick Tompkins, professional)
1908-c.1920 Harvard University court 
1909 Roslyn, Long Island (Clarence Mackay)
Greentree, Manhasset, NY – dormant since 2000
1918 Racquet & Tennis Club, New York – 2 courts; McKim, Mead & White designed neo-Renaissance gem, courts by Joseph Bickley; Restricted access
1922 Racquet Club of Chicago; Joseph Bickley (restored and re-opened September 2012)
1997 Prince's Court, Mclean, VA (Washington DC) (Haven Pell and Frederick Prince); 
Future USA courts:
Daniel Island, Charleston – is currently fundraising to build a court – please contact the USCTA to find out more information & support this exciting project!