The Second International Conference on the History of Tennis, 17&19 May, 2016, Newport, RI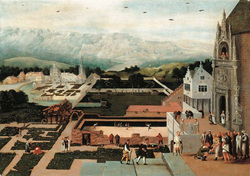 Lucas Gassel, "David & Bathsheba" (1535), Museum of the International Tennis Hall of Fame, Newport, RI USA 
The Second International Conference on the History of Court Tennis was held in the Casino Theatre of the International Tennis Hall of Fame, Newport RI on the 17 & 19 May, 2016, 10am-1pm.
CONFERENCE PROGRAM
TUESDAY 17 MAY 10AM-12:30PM
9:30     Registration with Coffee & Tea in the Casino
FIRST SESSION 10:00am – 11:00am Tennis: Past & Present
Welcome & Introduction: Frederika Adam, Session Chair
1. John Shneerson, Independent Scholar, UK
'Real Tennis Clubs – Origins and Ups and Downs'
2. Dr Robert Lake, Douglas College, British Colombia, Canada
'Not the simplest of father-son relations': Examining the Contemporary Postition of Real Tennis as both an Independent Sport and Area of Scholarly Study in the Context of Developing Lawn Tennis Historiography
Q&A
11:00-15          Tea Break
SECOND SESSION 11:15am – 12:30pm European Courts Past & Present
Frederika Adam, Introduction & Session Chair
Thierry Bernard Tambour, independent historian, Paris, France
'Chinon. A tennis court with a past and a future!'
*Alessandra Castellani Torta, curator, Turin, Italy
'The role of Trincotto in the education of princes of the House of Savoy'
Q&A
TUESDAY AFTERNOON
Lunch 12:45-2PM La Forge Restaurant – RSVP with Frederika Adam
Opening Reception for 'Court Tennis Contemporary' 2-4pm
76 Bellevue Avenue
The Exhibition Reception is open to all – Catalogue available ($20).
THURSDAY 19 MAY 10AM-1PM
9:30     Registration with Coffee & Tea in the Casino
THIRD SESSION 10:00 – 11:30 Tennis in North America
Frederika Adam, Welcome
James Zug, Session Chair
5. *Richard Travers, Independent Historian, Melbourne, Australia
'Gordon Bennett and the Newport Casino'
6.. James Zug, Historian and journalist, USA
'Keen Relish: A Look at Jay Gould'
Q&A
11:00-15          Tea Break
FOURTH SESSION 11:15 – 12:45pm The Art of Tennis Courts: from Old Master to Contemporary Court Tennis
Frederika Adam, Introduction
*David Best, Independent historian, UK
Joshua Mosley, Professor and Chair of Fine Arts, School of Design, University of Pennsylvania
'A brief overview of the research and production of a stop-motion animated 1907 Jeu de Paume match at Fontainebleau'
Q&A and Closing Remarks 12:30-1pm
THURSDAY AFTERNOON
Lunch 1-2pm, La Forge Restaurant – RSVP with Frederika Adam
2-3:30pm Conference Tour of the International Tennis Hall of Fame Museum
The Tour is open to all Conference Ticket Holders.
Friday 20 May Book-Signing reception for authors and artists to meet attendees and promote and sign their books followed by the Conference dinner at Fluke Wine Bar & Kitchen – kindly sponsored by Robert Sinskey Vineyards.
We would like to say thank you to Maria Sinskey and Robert Sinskey Vineyards for supporting the Exhibition Opening Reception and the Conference & Exhibition Dinner. 
The World Championship was organised by the National Tennis Club and the links to the Videos of the match can be found HERE.
The Full Conference VIP Ticket ($30) included: tickets to both days of the Conference in the Casino, a complimentary copy of the Conference Program, a private tour of the newly renovated Museum and Hall of Fame of Tennis, Exhibition Opening Reception at the Newport Art Museum and invitations to the Book signing and Wine Tasting Dinner on Friday 20 May.
Videos of the Conference are available on the RTS YouTube channel:
Day 1 (17 May): https://www.youtube.com/watch?v=8rbOmWNigC4 – Please note the first talk is audio only and Rob Lake's talk is audible from 50:55
Day 2 (19 May): https://www.youtube.com/watch?v=0Ddl9Lr6T9o
We will aim to post as many papers/presentations from the conference in due course and will update this message when the page with links to the papers has been created. Thank you.
The Real Tennis Society
Founded in 2012, The RTS's mission is to promote the sport of tennis (real, court, jeu de paume et al.) through its history and create a foundation for scholarly study of tennis through organizing conferences, exhibitions and events in conjunction with those institutions keen to help grow this field of study.
The first international conference was held at Queen's during the 2012 World Championship. We had 11 papers over 2 days with an elegant book-signing reception for attendees and a conference dinner for speakers at the Chelsea Arts Club. The conference was a great success and led to the creation of the Real Tennis Society launched in Bayonne in September, 2012.
www.realtennissociety.org