Villers-Cotterêts Conference 2013
"Le Jeu de Paume : l'édifice et la pratique" A Conference organized by the Regional Historical Society of Villers-Cotterêts on 16 November, 2013 in Villers-Cotterêts.  For more information on this event visit the links below or contact Thomas: Thomas.Moulin@ogif.fr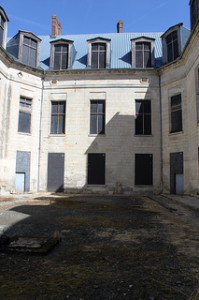 Links about this event and further information:
Thomas' Blog about the Chateau: blogs.mediapart.fr/blog/thomas-moulin/071113/villers-cotterets-il-y-peril-en-la-demeure
Photographs & notes on FB on the Jeu de Paume at Villers-Cotterets: m.facebook.com/notes/jacques-edmond-barre/villers-cotterêts-un-château-jeu-de-paume/650686141616663/
Local press: www.lunion.presse.fr/region/l-histoire-du-jeu-de-paume-evoque-au-chateau-de-ia3b26n254020
Press Release: 
"Construit par Philibert de l'Orme vers 1530, le château de Villers-Cotterêts fut l'une des résidences préférées du Roi François Ier qui y venait régulièrement pour s'adonner à la chasse et à la paume, au point de la baptiser "Mon Plaisir". 
La singularité du jeu de paume de Villers-Cotterêts tient à ce qu'il occupait une place centrale dans le château, les appartements royaux se trouvant tous agencés autour de ce court découvert qui a survécu jusqu'à aujourd'hui.
Au XVIIIème siècle, le duc d'Orléans y fit construire un nouveau jeu de paume qui surpassait tous les jeux de paume encore en activité en France à cette époque.
Au début du XIXème siècle, le château est transformé, par décret de l'Empereur Napoléon Ier, en dépôt de mendicité de la ville de Paris, fonction qu'il a conservé jusqu'à nos jours.
En 2014, les derniers pensionnaires de cet Etablissement quitteront les lieux. 
La question du devenir de ce château et de ses jeux de paume, de sa vente par l'Etat français ou bien de sa conservation au sein des Monuments nationaux, et partant de sa restauration, va donc se poser dans les prochains mois.
A l'invitation de la Société Historique Régionale de Villers-Cotterêts, M. Yves Carlier, Conservateur en chef du département des ressources documentaires du château de Versailles, donnera une conférence sur le thème : "Le Jeu de Paume : l'édifice et la pratique" qui retracera l'évolution, à travers les siècles, d'un sport en prise directe avec l'Histoire de France."
– la date :
 samedi 16 novembre à 20h30
– le lieu : 
salle Georges-Bourdon (en face de l'église) 4, Place Aristide-Briand 02600 Villers-Cotterêts, Picardie
Contact : 
Thomas MOULIN 06.45.46.68.81